Join us for a high quality summer snowboarding experience on Mt. Hood!
Over the years Mt. Hood has garnered a worldwide reputation as an icon in the snowboarding community. This is a destination that snowboarders have been traveling to to extend their season and share some summer laps with likeminded riders for decades. Part of the Cascade mountain range and located about an hour from Portland, Oregon, we will be able to enjoy two summer snowboarding sessions at Timberline Lodge, including one during the week of the 4th of July! Mt. Hood is the summer snowboarding mecca of North America, and is the best location to get on snow during this time of the year. During our week on snow we will be riding a variety of terrain, and will spend a significant amount of our time riding park in Timberlines Freestyle Training Center (FTC) using their rope tows. We will also have the option to take big laps on both the Magic Mile and Palmer chairlifts (Magic Mile chair features Timberlines public park). I will offer my 20+ years of experience on snow to help with any progression goals you have, and plan to spend most our time on snow riding together in a group progression session type of setting. We will be joined by still photography specialist for Redbull Media and video editor for Board Archive, Yuji Fujiyama. The main goal of the week is to spend time on snow with friends, experience what Mt. Hood has to offer, and have as much fun as possible!
**Limited Availability**
Dates: Session 1 is June 25 - July 1, 2023 (5 days on-snow June 26 - 30)
Session 2 is July 2 - 8, 2023 (5 days on-snow July 3 - 7)
Requirements - This is a 21+ retreat - Must be able to confidently ride blue and black terrain - Basic terrain park experience
What's Included
This is an all inclusive trip that will be based out of Government Camp, Oregon, the best and most convenient location near Timberline Lodge. It's as close as you can get.
Here's what will be provided:
- 6 nights of accommodation in a luxury cabin
- Transportation between PDX and the cabin on arrival and departure days
- Transportation to and from the resort (and other activities)
- 5 days of lift tickets, including access to Timberlines exclusive terrain parks & rope tows
- 3 meals per day
- Professional quality digital photographs as a souvenir
- Good times
What is NOT included
- Airfare
- Spending money for snacks, souvenirs, or alcohol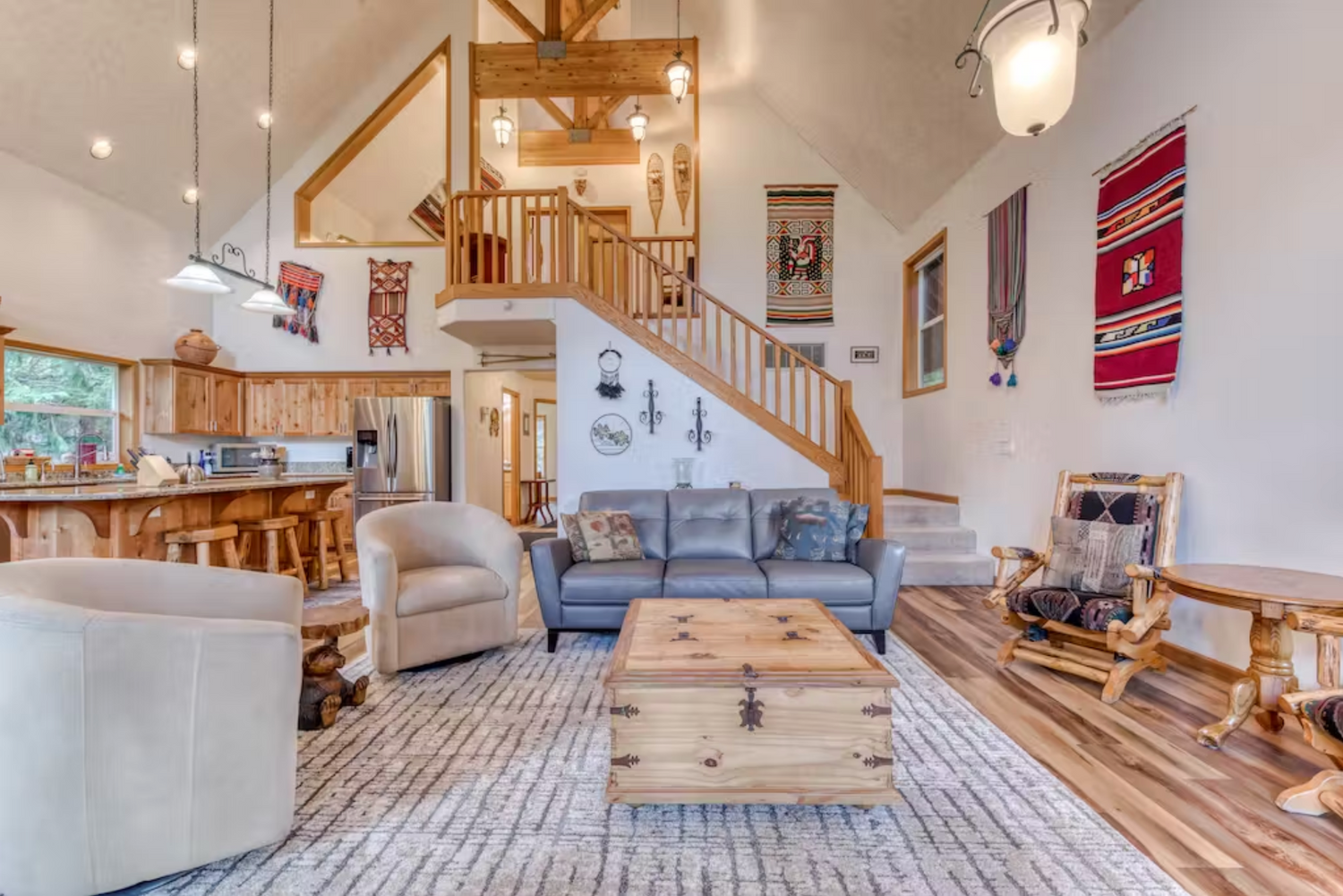 Where We're Staying
For each session we will be staying in beautiful and spacious cabins that are conveniently located in Government Camp. We will be near the General Store, restaurants, and everything else Govy has to offer. Our cabins are as close as possible to Timberline Lodge and provide the shortest drive each day to the snow field.
There will be different cabins for both session 1 & 2. Both cabins offer beautiful interiors with large great rooms, large outdoor deck areas, multiple living rooms, and all other amenities you would expect. There will be a hot tub available for use at our cabin for session 1.
During both sessions there is also an opportunity to upgrade to a private queen room, or to share a private queen room with your significant other. If you are interested in sharing a room please send an email for more information and receive a discounted rate.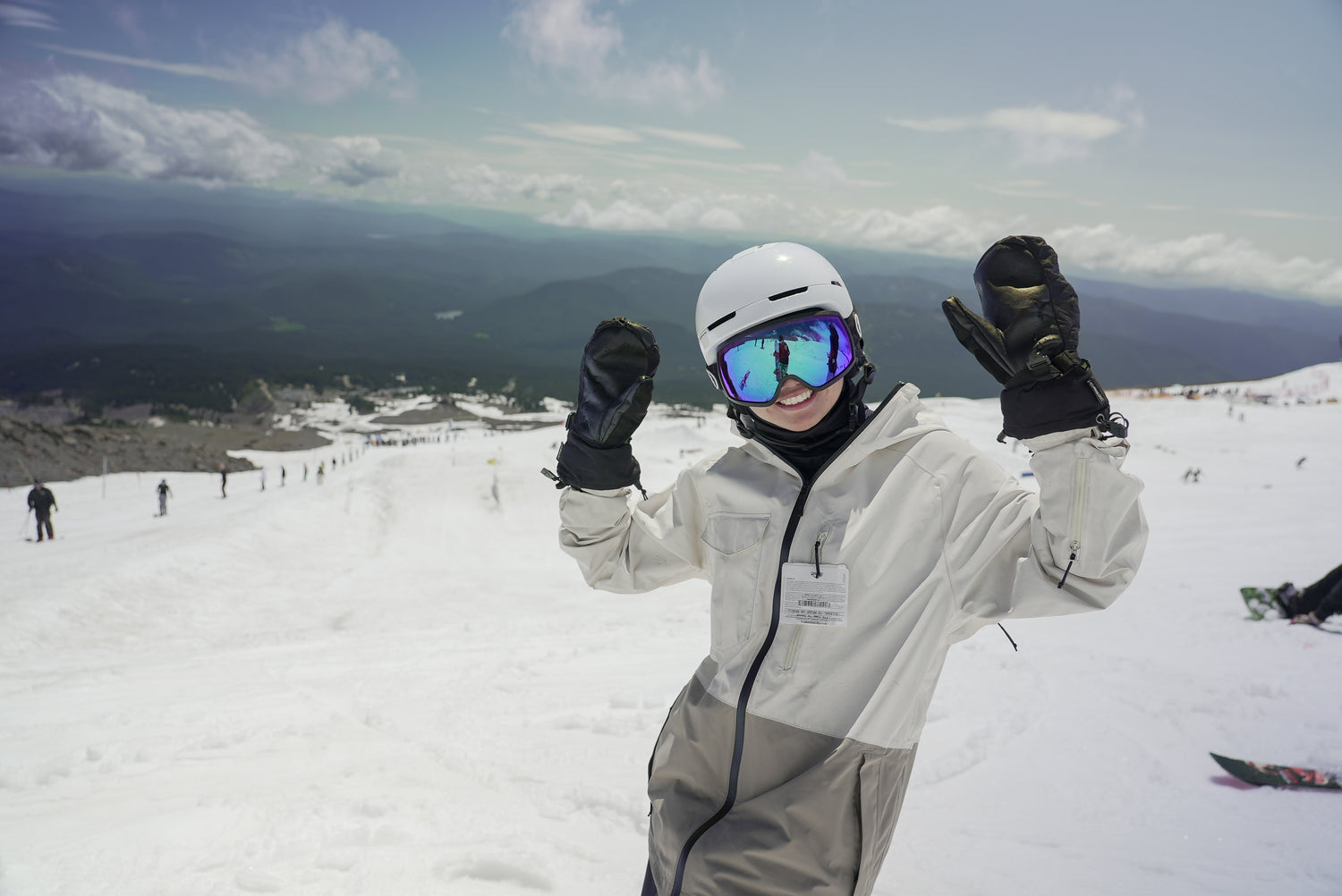 Snowboarding on Mt. Hood creates a harsh and sunny alpine environment with weather dependent conditions. Here is a list of items to help make sure you are best prepared for the week:
What to Bring
- Snowboard, Bindings, & Boots
- Snow Pants
- Waterproof Jacket
- Light Jacket (i.e. windbreaker) and/or Hoodie
- At least 1 long sleeve shirt
- Helmet
- Goggles and/or sunglasses
- Lightweight Gloves or Mittens (2 pairs recommended)
- Plenty of Snowboard Socks (5 pairs recommended)
- Facemask Recommended
- Backpack
- Water Bottle
- Sunscreen
- Swimsuit
- Toiletries
*Cancellations before June 1 will recieve a 50% refund. 30% refund after June 1
**Flight and transportation costs will not be refunded or reimbursed
***This is a 21+ retreat, and ultimately you are responsible for your actions and well-being. We are not responsible for any injuries or lost/damaged/stolen goods
****Summer snowboarding is weather dependent, and weather days are a possibility